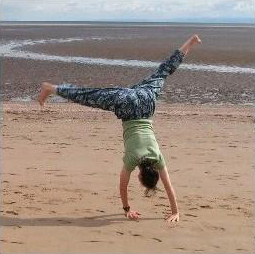 Alexander Technique
with Tim Soar
   +44 (0)1792 296278
Kiri wo Miru 2024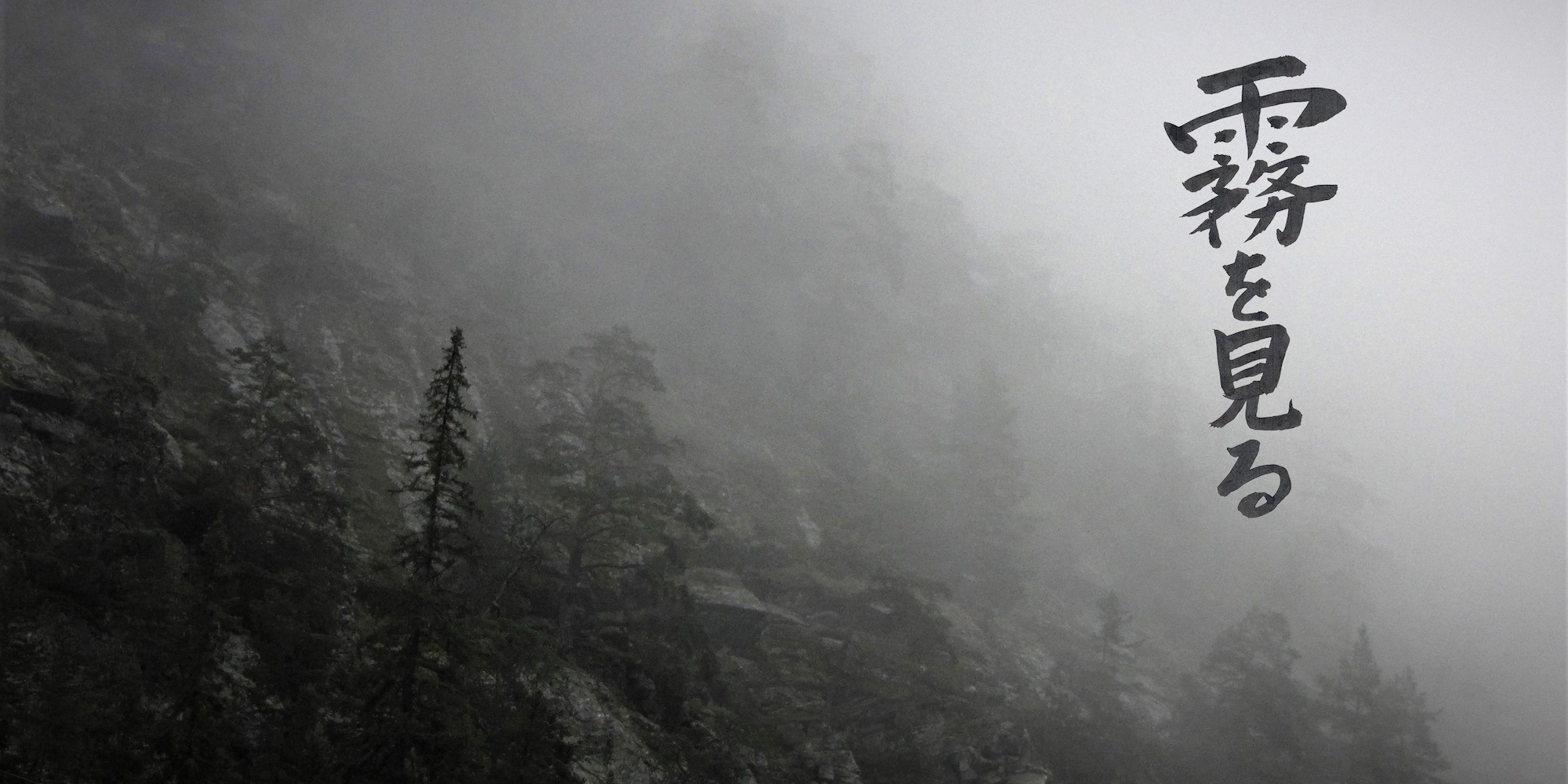 Yoga and Alexander Technique in the Black Mountains
with Anna Goldbeck-Wood and Tim Soar
a residential retreat
Monday August 26th to Friday August 30th, 2024
Amazing guidance from Anna and Tim, as ever. This is life-changing! Maggie, lecturer and orchestral leader
  Thank you for a very nurturing experience at the Barn. I'm still processing the learnings, and there were many! Camilla, physiotherapist
About the course
We invite you to join us in the enchanting landscape of the Welsh Black Mountains, to allow yourself to be nourished by movement, stillness and reflection.
Anna and Tim are skilful, attentive teachers who form a close and complementary team, to support you in your physical practice as well as whole-self enquiry.
Our retreat offers three whole days filled with group classes for different aspects of Yoga, Alexander Technique, and animal and evolutionary movement. There will also be scheduled time for everyone to be offered a full length one-to-one Alexander Technique or Yoga lesson, and for exploring the locality on your own, or taking a well-earned rest.
You are invited to arrive for tea from 4:00 on the Monday afternoon. Departure is after breakfast, on the Friday morning.
Who would enjoy the course?
Anyone with some experience of either Yoga or the Alexander Technique, and an interest in the two disciplines together is very welcome. Of course, none of the sessions is compulsory, but in order to take part in everything we offer, you would need to be fit enough to consider two Yoga sessions each day (a combination of more dynamic Yang, and more static Yin sessions) plus other less active classes. No great level of expertise or experience is expected, yet teachers of either discipline who may be curious about the other, or who seek to be held in space that offers subtlety and nuance, are very welcome.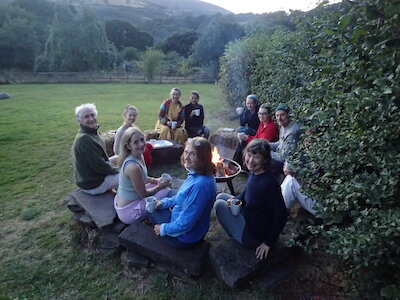 Kiriwomiru: our ethos
Kiriwomiru – "gazing into the mist" in Japanese – is the name of Anna and Tim's collaboration to share their work with Yoga and the Alexander Technique, through residential courses in peaceful and inspiring locations.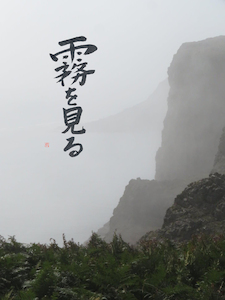 In our way of approaching the work, both Yoga and Alexander Technique, we find ourselves seeking a freedom that is always somewhat unknowable, as if shrouded in mist. We are engaged in a process of discovering freedom, through the exploration of movement, rather than being tempted to force our preconceptions onto our practice.
Both Yoga and Alexander Technique give us ways of "gazing into the mist" – ways to build our abilities of focusing and allowing, of meeting uncertainty with skill – that permit gradually clearer experiences of a freer way of being.
Fforest Barn, Abergavenny, South Wales
The Fforest Barn is a small, modern, eco-friendly retreat centre which offers a perfect setting for our course.
We will have sole use of the whole site, which is based around a double barn conversion. One barn offers kitchen, dining and communal space, and the other houses a Yoga studio. There is also extensive outdoor space, including a Yoga Field, if the Welsh weather is dry enough! Moving off-site, there is easy access to walking and sitting in the wild and beautiful landscape of the Black Mountains, part of the Brecon Beacons National Park.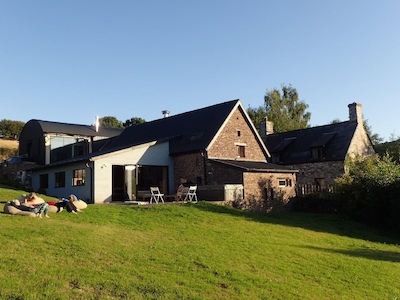 More information about the centre can be found on the Fforest Barn website: https://www.holfordnaturalholidays.com/fforest-barn/overview/
Tim and Anna
Anna and Tim are Alexander Technique teachers, movement practitioners and musicians, and have been benefitting from each other's work for over twelve years. Individually and together they offer work that is joyful and powerfully gentle.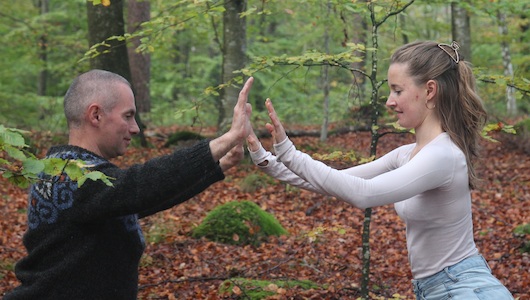 Tim
Tim has over 30 years of Alexander Technique teaching experience, and has built a wide reputation for the clarity and subtlety of his hands-on work. He has taught at the Royal Welsh College of Music and Drama for many years. In other residential settings Tim taught at Marnaves Summer Baroque, a Summer school for music students and young professional string players, from 2011 to 2019, and he was one of the core teachers for John Hunter's Easter residential courses, which formed part of John's Alexander teacher training programme.
Tim has long experience as an Aikido practitioner, and an interest in exploring animal movements as a way of understanding our own patterns of movement. He is one of a handful of teachers in the UK to be qualified to teach David Moore's synthesis of Yoga and the Alexander Technique, which forms the basis of David's book "Smart Yoga".
Anna
Anna is a musician, movement coach and cook. With a background in music and theatre performance, Anna holds teaching qualifications in Yoga, the Alexander Technique and Dalcroze Eurythmics. She teaches in school, university, conservatoire and community settings, as well as from her home in South London.
Her Yoga practice reaches across styles including heated and unheated Vinyasa, Hatha and Yin Yoga. As a musician and theatre performer she has developed particular expertise in performance practice and the relationship between doing well and being well. As a cook, Anna is interested in the wellbeing of the whole human, including our food and our ecological relationship within landscapes. A recent sabbatical spent working as a chef at the Inver restaurant in the western Scottish wilderness gave new insights into how we are affected by pressure, and on how we can relate more sustainably to ourselves and our surroundings. Underpinning all of Anna's work is a delight in listening and sharing: to people, stories, ingredients, and landscapes. She brings playful rigour to working with all people, hoping she can support them to embody the practical skill of "ahimsa" or kindness that forms the heart of both Yoga and the Alexander Technique.
In her spare time Anna continues to write and record with her folk band a'Nish, including the album Way of the Gull, and to swim in wild water at every opportunity.
Contact
If you would like to talk to us about the course, or if you would like more information, we would be delighted to hear from you. You can email us at , or phone Tim on: 01792 296 278, or use the contact form at the foot of this page.
Catering
Chef and Yogi Joki Mihovilcevic will be cooking for us. The course is fully catered, with all vegetarian food supplied, from refreshments on arrival on Monday afternoon, to breakfast on Friday. Please let us know of any particular dietary requirements or food sensitivities, so that we can keep your belly happy.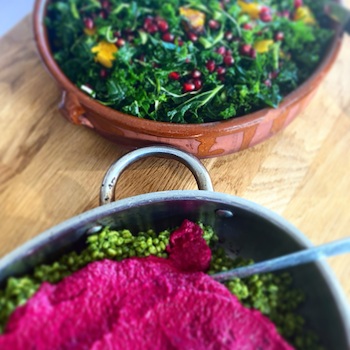 Joki first came to the UK from her home country of Croatia in 1989, and began work at Neal's Yard, the wholefood hub of London's Covent Garden. In 2002 she moved to Bali with her young son and set up her own business, The Little Green Café. As a chef and a practising Yogi she started providing food for many Yoga retreats in Bali. Now based back in the UK, Joki joins us again for our courses in the coming year, bringing her unique understanding of healthy and delicious food, combined with her long experience of Yoga, to support our practice at the Fforest Barn.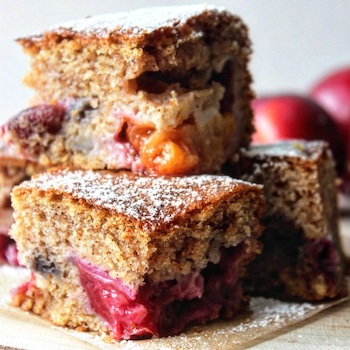 Accommodation
The barns have four twin or double rooms, including a small cabin just outside the main buildings, one triple (or possibly "family") room, and three bathrooms. Most of our beds will be in these comfortable shared rooms. The rest of the accommodation will be in the on-site glamping bedrooms which are fun and comfortable, if a little more basic. All bedding and towels are supplied; the glamping rooms have heating, electric lights and electric blankets.
Couples can be accommodated in private double rooms, and we will be careful to make the most suitable arrangements for the shared rooms. Let us know if you are coming as a couple, or with a friend you would like to share with; twin or double beds are available on request. All of the single occupancy options (and one of the double beds) are in the glamping rooms, which include two gypsy caravans, a tree house and a large tent on a decking base. The glamping facilities have shared compost toilets and "Tardis" showers, but it is a short walk to the barns which have mains plumbing!
The glamping options may be more suitable for the more agile and adventurous; the indoor bedrooms will almost certainly be shared. Please let us know your preferences, and we will do what is possible.
Fees and Booking
All tuition, food and accommodation: £620 per person.
Please contact us if you would like to book, and we can hold a place for you, which will be secured on receipt of a 50% (£310) deposit. The balance is due six weeks before the beginning of the retreat.
We hope to be able to offer one or two substantially subsidised places for people in full time education, or for others who would benefit from the course, but would find the full fee difficult. We aim to be adaptable and inclusive; please get in touch rather than thinking you can't come.
To reserve a place or make an enquiry you can email us at , or phone Tim on 01792 296 278.
Travel
Near to the Midlands – just inside Wales – we hope that Abergavenny and the Fforest Barn will be found to be easily accessible from most parts of the UK. There are also two international airports nearby: Bristol and Cardiff.
Abergavenny has a railway station, and the Fforest Barn is a short taxi ride away. We may be able to arrange lifts to meet certain trains.
Detailed information about how to get there, what to bring, and what to expect, will be sent to participants before the beginning of the course, or just get in touch with your questions – we look forward to hearing from you!
---
Contact Tim and Anna:
FREEDOM OF MOVEMENT
POISE AND BALANCE
FREEDOM FROM TENSION